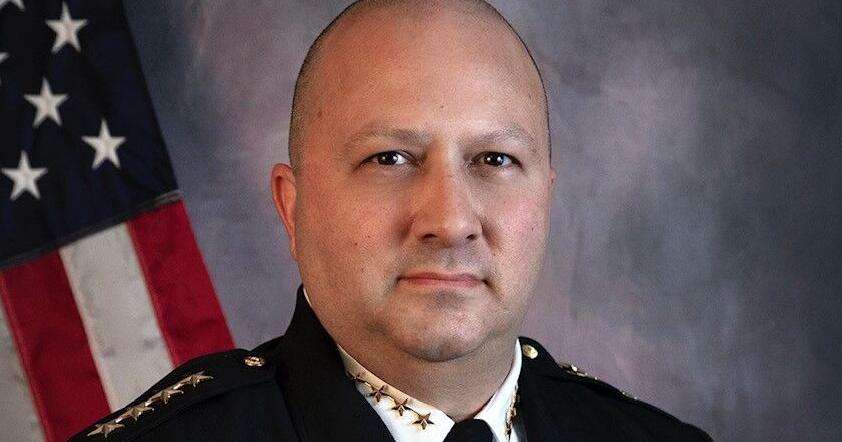 Woodland Park City Council Confirms New Police Chief, Gets First Look at 911 Consolidation Proposal | Mail from Pikes Peak
Woodland Park City Council confirmed the appointment of Chris Deisler as the city's new chief of police at its February 17 meeting.
He was named by City Manager Michael Lawson, the culmination of a nationwide search that began in September after a police department shuffle.
Deisler has 30 years in law enforcement and is currently the chief of police in Winter Springs, Florida. He joined the meeting on Zoom, introducing himself and talking about his history with law enforcement that began when he was a 19-year-old rookie in small-town Florida.
"It's hard to leave," he said. "But I will continue to bring the love I have for all my relatives to Woodland Park. … My energy comes from my love of what I do. This fire is burning brighter than it ever has, and I'm not done. I'm thrilled to have this opportunity – I'm here for you.
He plans to move to Woodland Park on March 24 and take over the department on March 28.
In other business, council member Catherine Nakai led a presentation honoring Jon DeVaux who served the city as a volunteer for 20 years. He recently resigned from the planning commission after nine years.
DeVaux also served on city council for nine years, worked on two comprehensive plans and the city's master plan, helped found the Downtown Development Authority, and served on its board of directors.
"Your job is to leave a mark, to make this city a better city, to hear from you," DeVaux said. "You can do something you'll remember – something you can hang your hat on."
Additionally, Bonnie Mamey of Mission Critical Partners gave the board her first look at a 911 dispatch consolidation study.
She said emergency dispatchers were receiving calls on landlines, but calls are now coming in on many devices, including smartwatches. Dispatchers are now carriers, she says.
Teller County, Woodland Park, and Cripple Creek each have dispatch facilities, often with only one dispatcher on duty.
"It's dangerous when multiple calls come in," Mamey said. "With consolidation, we could have four dispatchers available during the day and three at night."
She added that the consolidation would reduce emergency response time, provide more opportunities for staff advancement and could reduce turnover.
The consolidation study is carried out in phases. The first two are finished. Mamey said the third phase would be a deeper dive into local conditions and needs.
"It feels like a decision to be made, not just a presentation – I feel caught off guard," council member Rusty Neal said. "Our mayor is not here; we just confirmed a new chief of police…and we didn't get a prebrief.
Mamey replied, "It was just a presentation to bring you up to speed. You can go back and digest that, talk about it, ask questions. … It is important that you take your time.
"If consolidation meets your needs, we'll help," said Carl Simpson, general manager of the El Paso-Teller County 911 Authority. "If not, we will support you anyway. Nothing changes if nothing changes. »
Woodland Park Police Department Acting Deputy Chief Rodney Gehrett helped consolidate the El Paso/Fountain County dispatch. He said he was not opposed to the consolidation, but warned council members to make sure they had all the information they needed.
"It's a big decision and once made there's little chance of going back," he said. "You could give up a lot of control."
"We're not looking at that type of consolidation," Mamey said. "You would have your own people on the board to keep control on the pitch."
Northeast Teller County Fire Protection District Chief Tyler Lambert said he supports the Phase Three review. "We want safety for our emergency responders, a dispatch center and faster responses to 911," he said. "If consolidation can move these things forward, we're all for it."
Mayor Pro Tem Kellie Case suggested that council reconsider the matter at the March 17 meeting. The rest of the board agreed.
Mike Nakai asked council to approve in-kind support and $2,300 in funding for Wildfire Preparedness Day on May 7 at the Northeast Teller County Fire Department and under the direction of the Police Department. of Woodland Park.
Council members Stephanie Alfieri and Robert Zuluaga said they would not commit taxpayer money.
"I am all for in-kind support, but I will be stingy with taxpayers' money," Alfieri said. "That's still my position, and I'll stick to it."
"If that $2,300 can save a single house, a single life, then it's worth spending," councilman Rusty Neal said.
Case said, "This is not another nonprofit asking for money. This is an educational opportunity to help the citizens of Woodland Park. During the Hayman Fire, Woodland Park was just one weather event away from being evacuated. Preparing our citizens for another fire is a perfect use of taxpayers' money.
With Catherine Nakai recusing herself and Mayor Hilary LaBarre absent, the application ended in a tie vote and was automatically tabled at the next council meeting. Zuluaga said placing the request on the agenda under introductions was procedurally incorrect.
City Attorney Nina Williams said that even if the vote was incorrect, it only takes two council members to request that it be added to the agenda for the next meeting.
In her ongoing search for city codes, councilwoman Nakai found one she believes needs to be removed – a code that makes it illegal to display a deadly weapon in an establishment that serves alcohol .
"Former police chief Miles DeYoung said he didn't enforce it and didn't have time to change it," she said. "The new leader said he didn't like the law but would enforce it if it was on the books."
Lawson and Williams said they could have an order to remove the code ready for initial release by the March 3 meeting.