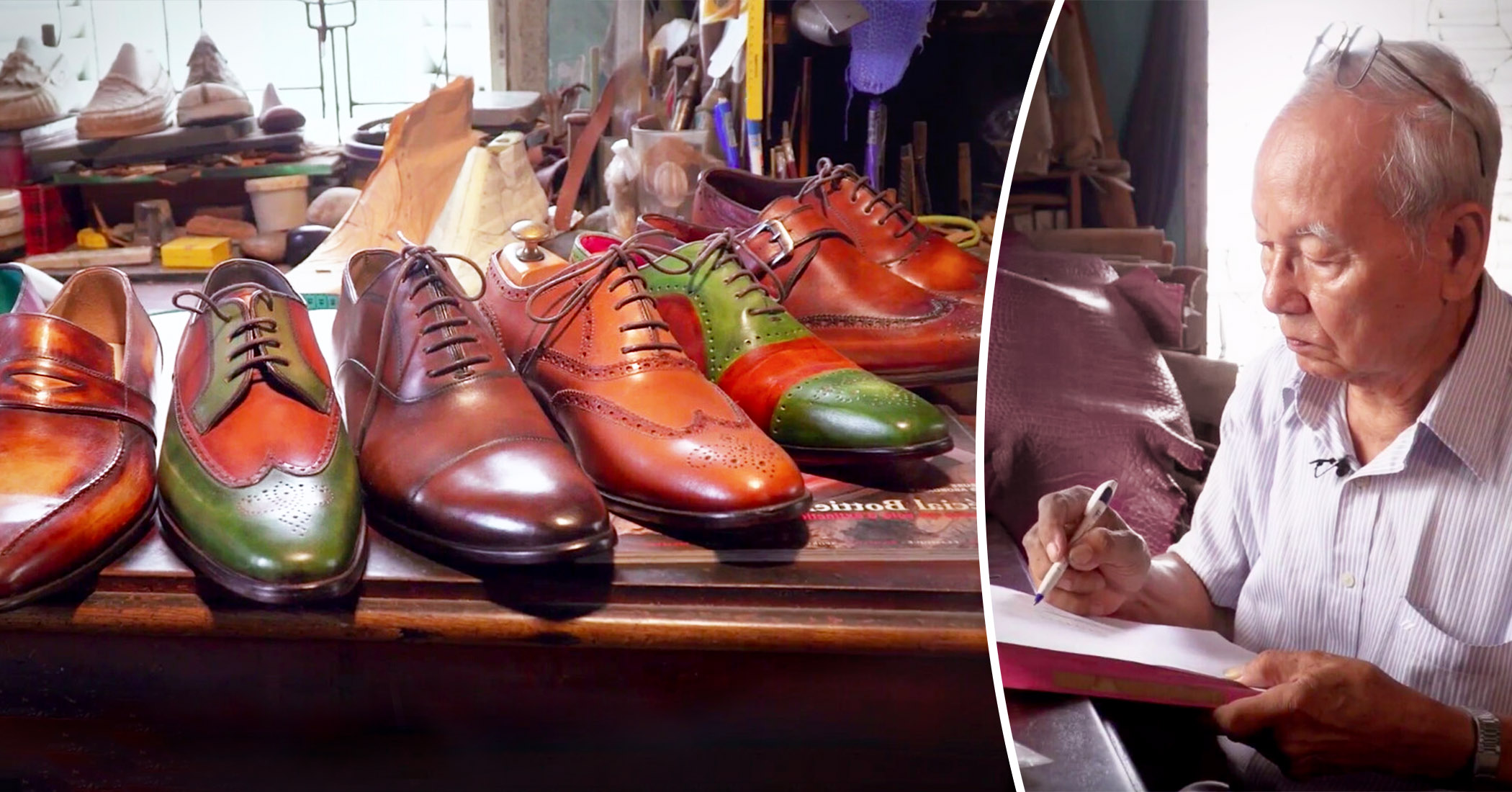 Man learns how to make amazing leather shoes by hand and ends up selling them to royalty
A self-taught shoemaker has honed his craft from humble beginnings to making some of the world's best leather shoes in his workshop in Saigon, Vietnam.
Learning the trade in humble circumstances in the 1940s, Trinh Ngoc, now 89, continued to make shoes that became sought after by world leaders.
His career in shoemaking began at a young age in 1947, when Ngoc's brother became an apprentice in the making of suitcases. Near where he worked, there was a shoe-making workshop that Ngoc used to visit frequently.
"I found it really interesting and was interested in learning it because shoe making is really diverse," he told The Epoch Times.
He watched shoemakers practice their craft and learned from them, although their shoe-making skills are considered inferior by European standards.
"Fortunately, in 1950 my family moved to Phnom Penh and opened a shoe store in a new French town," he recalls the family's move to Cambodia.
There were several shoe stores in this town, which stocked all kinds of popular brands that were sold to local European customers. At first, these European patrons were suspicious of Ngoc's work, judging the quality of his shoes below average, due to his still unrefined skills. They only went to his house to have their shoes repaired, while buying new pairs from France and Italy.
Still, they kept telling him that they would start buying his shoes if he could match their standards.
"What they said made me feel motivated but also not very confident," Ngoc admitted.
With so many European examples at hand, however, he took the opportunity to compare the craftsmanship of imported shoes against that of locally made shoes. He found that the quality gap between the two was huge.
Each night, while fixing these shoes, Ngoc would open a box and examine the craftsmanship in detail in order to learn a thing or two.
"Little by little, day by day, year by year, my skills improved and I started making more shoes," he said.
After about two years of practicing this way, he showed a few local European customers what he had done when they came to have their shoes repaired. They said the quality still seemed substandard, but they would try a pair.
Fortunately, Ngoc found that his clients genuinely loved his work, and soon more and more orders started pouring in every day.
His reputation and business have grown steadily and over time his brand has become famous all over Cambodia.
"French businessmen, professors and doctors have started to order," he said. "Even the French ambassador also came to make shoes in my shop.
Eventually, the Prime Minister and his family became his patrons.
"Later, the Cambodian royal family also came to my shop," Ngoc said.
King Norodom Sihanouk – who was considered a very elegant man who wore only European shoes – heard about Ngoc's prowess in shoemaking and invited him to the palace to make him a pair.
At that time, his career was at its peak.
In 1970, however, a civil war broke out in Cambodia, involving American troops, those of Lon Nol, and Vietnamese Communists, which forced Ngoc and his family to flee to Vietnam.
"When I arrived in Saigon, I lost everything, nothing. But God blessed me, I was still alive, "he said.
In 1971, he conducted market research and focused on making high-end shoes, which he would showcase in malls and popular stores where imported shoes were sold. Ngoc's shoes started selling fast due to their very reasonable price, with customers rating the quality of the items. One trader even offered to pass them off as imports.
Business was good for Ngoc and his customers, and vendors took note of his constant travel to promote his wares. They began to inquire about the location of his store so that they could buy directly from him cheaply.
"Since that time, customers around Saigon have flocked to my shoe store," he said. "Musicians, singers and even French doctors also came to my shop to make shoes. The Saigon government also invited me to their office to make them shoes.
However, hard times have struck after Saigon fell into the hands of the North Vietnamese communists and Ngoc stopped making shoes. He noticed that people had given up on wearing shoes, exchanging them for cheap rubber sandals for walking around town.
It made him and his wife quite sad; he thought his career was over and he took a long hiatus from shoe making, until he later returned to the trade.
In 1975, with his expertise in shoemaking, Ngoc went to work for Bata, a Vietnamese shoe company, as a manager, teaching shoemaking skills to workers.
At 61, he retired from Bata and returned to his specialty.
He had also passed on the art of traditional shoemaking to many other students. But he says none have managed to follow his method as thoroughly as they have, instead of being drawn to the financial incentive to produce a larger volume of cheaper shoes during times of hardship. financial.
"It takes me two days to make a pair of shoes, but they can produce 200-300 pairs a day," Ngoc said. "The profit is really high."
To be successful in the shoe manufacturing industry, he added, you need passion, creativity, sophisticated artistic eyes, and golden hands to perform exactly what you want to see.
All photos and videos from The Epoch Times.
Share your stories with us at [email protected], and continue to get your daily dose of inspiration by signing up for the Epoch Inspired newsletter at TheEpochTimes.com/newsletter